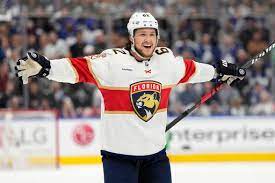 Florida Panthers defenseman Brandon Montour celebrates his overtime game winning goal against the Toronto Maple Leafs in an NHL hockey game in Toronto on Wednesday, March 29, 2023. (Nathan Denette/The Canadian Press via AP)
By Joshua Clipperton
THE CANADIAN PRESS
TORONTO- Brandon Montour unloaded a one-timer and watched the puck hit the back of the net before dropping to one knee and sweeping his glove over the ice in celebration.
The third-period goal on a delayed penalty took the air out of Scotiabank Arena and gave his Florida Panthers breathing room on the way to a 4-2 victory in Game 1 of their second-round playoff series against the Toronto Maple Leafs.
For anyone not paying attention this season, Montour stepping up in a key moment has become the norm.
The 29-year-old defenceman nearly doubled his career high with 73 points in 2022-23 after finally getting the chance to play a bigger role in his eighth NHL campaign.
Largely a third-pair blueliner until this past fall, Montour was elevated to Florida's second duo and earned power-play quarterback duties on the team's No. 1 unit.
He was shot out of a cannon early in the schedule, and never looked back in setting a franchise record for points by a defenceman.
"Getting out there more, getting the opportunities, them believing in," Montour said when explaining his rise ahead of Game
2 against Toronto. "I just wanted to run with it, take as much advantage as I can with that, and show what I could do.
"Things have been good."
Montour, who also tied Florida's high-water mark for goals by a defenceman in a season with 16, was selected in the second round of the 2014 NHL draft by the Anaheim Ducks before getting traded to Buffalo during the 2018-19 campaign.
He would endure parts of three miserable campaigns with the Sabres, including an 18-game losing streak in 2021, before mercifully getting dealt to Florida.
On top of Montour's regular-season stats, his six goals through eight playoff contests, including a late equalizer in the Panthers'
dramatic Game 7 upset of the Presidents' Trophy-winning Boston Bruins in the first round, is the third-most by a defenceman in NHL history to start a playoffs, behind only Bobby Orr and Paul Coffey.
"I've tried to play the same way," he said of his offensive explosion after putting up 37 points last season. "Numbers change with the amount of ice time and power play, but I think that was always a strength of mine.
"It was just a matter of getting out there and doing it."
The product of Ohsweken, Ont., on Six Nations of the Grand River Territory, Canada's most populous reserve and not far from Wayne Gretzky's hometown of Brantford, has appreciated the support back home despite it being in the middle of Leafs country.
"It's huge," said Montour, who was also born in Brantford. "A lot of fans are rooting for us."
Panthers head coach Paul Maurice, in his first year in South Florida, said the blueliner's fitness level gave him the foundation to get going following a tough training camp.
"Came out of the gate very strong," Maurice said. "He starts putting up (power-play) numbers. That in turn allows his 5-on-5 game to settle."
The third part of the equation was defence partner Marc Staal.
"Marc has been fantastic," Maurice continued. "Marc is so incredibly consistent and experienced and knows the game and talks the game, is funny as hell. Those two guys just built a fantastic chemistry. Brandon has benefitted from that.
"He did the work to come to camp in great shape. He got the opportunity because he had some fantastic skills … it allowed his game to settle. And then he got the right partner."
Staal, who like Maurice is in his first season with the Panthers, has been impressed by Montour since Day 1.
"Knew he was a dynamic player," said the 36-year-old. "But being on the ice every day and playing with him, he does some pretty incredible things.
"We rely on him a lot for our offence. He's a big part of that.
That pressure and responsibility was put on him. He just took it and ran with it."
Montour was part of a number of blue-line tandems up and down the lineup last season, but has appreciated seeing that familiar, reliable face whenever he looks to his right.
"Great guy," Montour said of Staal. "Keeps the room light, keeps me light. I like that connection.
"I know what he brings every night, he knows what I bring every night."
Montour had one long playoff run with Anaheim as a rookie in 2017. It's not lost on him these moments can be fleeting in a hockey player's finite career.
And just like the opportunity he grabbed, the defenceman is keen to see how long the Panthers can keep this run going.
"It's crazy … time flies so quick," Montour said. "This is my eighth season and we really had that one crack at it.
"You just want to win that much more."
This report by The Canadian Press was first published May 4, 2023.
Add Your Voice
Is there more to this story? We'd like to hear from you about this or any other stories you think we should know about. Contribute your voice on our
contribute page
.