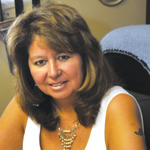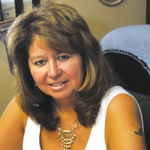 PUBLISHER LYNDA POWLESS
Turtle Island News Publications –
Box 329, Ohsweken, Ontario, N0A 1M0
P: (519)445-0868 F: (519) 445-0865
Email: lynda@theturtleislandnews.com
Lynda Is the owner of Turtle Island News Publications, a multimedia publishing company based on the Grand River Territory of the Six Nations, publishers of the international award winning weekly newspaper TURTLE ISLAND NEWS and several magazines and has recently entered the world of book publishing.
Lynda launched the weekly newspaper almost twenty-five years ago after recognizing a need in aboriginal communities for people to be informed of what was going on in their communities. She is one of the most experienced native journalists in Canada and has received many awards in mainstream journalism working for some of the largest newspapers and broadcasting companies in Canada.
Among her awards and recognition:
The proud recipient of the Native American Journalists Association's Lifetime Achievement Award for journalism.
Named one of 2006's Top 100 Most Powerful Women In Canada a national award presented annually by the WXN, Canada's most influential female executive network. Ms Powless won in the Arts and Communications category. The award is given in recognition of women who have shaped Canadian thinking and culture through the profound impact they have made in the Arts or Communications arenas. The Top 100 Most Powerful Women in Canada are four years old and are divided into eight categories. The Women's Executive Network presented the awards in a gala luncheon event at Toronto convention centre. The
WXN is an 10,000 member networking and advocacy group based in Toronto, and Canada's most influential female audience.
RBC Entrepreneur of the Year Award winners in the Trailblazer Category for 2005. She was one of five women chosen from across Canada. The Canadian Woman Entrepreneur Awards are the biggest and most prestigious honour for women business owners across the country.
Named to the First Nations Governance Institute's Council. Lynda is honoured to be a member of a council overseeing the first indigenous institute dedicated to research and aiding First Nations communities as they build their governing structures.
Honoured in 1997 to be the recipient of NAJA's Wassaja Award, for service to native journalism, the most prestigious award available in native journalism.
Lynda lives in her home community of Six Nations of the Grand River, just outside of Hamilton, Ontario with her three sons.