By Lisa Iesse
Writer
SIX NATIONS OF THE GRAND RIVER – Six Nations Lands and Resources director Lonny Bomberry is getting ready for round two.
Watching while Six Nations people looked over the decades of research needed to produce Six Nations multi-billion dollar land rights case, he said they aren't finished yet.
Turtle Island News caught up with him during an Open House at the Six Nations Lands and Resource Office. Bomberry was just back at Six Nations after last weeks hearing in a Toronto court..
After three days of hearings, including a challenge to whether or not the 1784 Haldimand Proclamation was a treaty, he said Six Nations will now be submitting an amended motion in June making it clear the Haldimand Deed created the Six Nations reserve.
Bomberry told Turtle Island News both Six Nations Elected Council (SNEC) and the department's Consultations and Accommodations Process (CAP) are "waiting for a decision from the two motions. We're the main actors proceeding along, still on track, we're good so far," Bomberry said.
Motions to intervene in SNEC's 28-year-old lawsuit against Ontario and Canada were heard last week at the Superior Court Building, at the Courthouse in Toronto.
The hearings were also broadcast via Zoom. Last week in court.
The Mississaugas of the Credit (MCFN) argued that the Six Nations Haldimand Deed is not an actual treaty. MCFN, Haudenosaunee Confederacy Chiefs Council (HCCC) and Haudenosaunee Development Institute (HDI), along with the Men's Fire are all seeking intervenor status to be included in the court proceedings.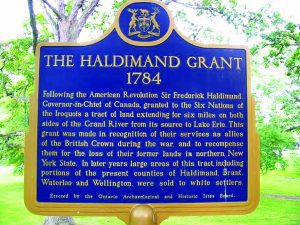 Bomberry said while SNEC's motion to amend their statement was not a response to MCFN's move, he is concerned about Six Nations neighbours, the MCFN's claims.
Along with Ontario and Canada, the MCFN is also now trying to claim the Haldimand Proclamation was not a treaty.
"But what kind of concerns us is that they are joining in with the 'crown' to say that the Haldimand Proclamation isn't a treaty, and it didn't create a reserve. I can't figure that argument out, but that's what they're saying," he said.
He says the delays in proceeding with the case have been frustrating for SNEC and CAP.
"It's very difficult because they keep delaying and asking for more reasons to delay. So, it's hard, ya gotta keep'em on track. We're bringing a motion to amend our statement of claim to make it more clear that the Haldimand Proclamation was a treaty and it created a reserve."
He said for the intervenors it's about delay.
"They're saying, 'oh we didn't know about this, it's something new to us we need time to put up a property fence' (meanwhile) that's been the word from day one. It's just another reason to get more delay. We don't know how that's going to work out yet. I think the motion to have the statement of claim amended is going to be heard in the early part of June, but I don't have the exact date yet," he said.
manager, and the judge "The case realize what's going on" and are "reluctant to give many more reasons for delay." However, he believes that the case is "still on course to start the trial sometime next year (in 2024)."
"The main action is now trying to push the crowns (Canada and Ontario) to stick to a timetable and follow through with what the judge orders for them to move this case along. "
He said they are working to prevent delays.
"They're saying that they can't get their expert reports in on time and they're afraid if the statement of claim is amended, they're going to have to hire new experts to defend it and all of these kinds of things that speak to delay. delay, delay," he said.
Bomberry said the reason for the amending motion was simply to make it clear the Haldimand Proclamation is a treaty, and it created a reserve.
"We've been asked for this all along, from the day that the statement of claim was filed. I guess it stems from the issue that we're alleging that the Haldimand Proclamation was a treaty."
A claim, he said was stated originally, but now they plan to change the wording to make Six Nations position clear.
The amended motion will now say it was a treaty that created a reserve for the Six Nations.
"We just want to make that more clear, although everybody has been operating under that knowledge ever since the case started. It's nothing new, it's been there all along, but now the crowns are saying 'well this brings up whole new matters that we have to research and investigate," although you know nothing's really changed, it's just the wording in the statement of claim."
He said the amendment will crystalize the understanding.
"We want to make it more clear that because it's a reserve, in a traditional sense, then all these fiduciary obligations that apply to Indian reserves all across Canada (which is) where the crown has a duty to administer properties in the status of a trustee."
Bomberry said that the change in wording was more of a protective measure.
"We've been alleging that all along, we just want to make it more clear so they can't wiggle out and say 'you didn't allege it in your statement of claim therefore we're not a full-fledged fiduciary like you say.' But they are, and they insisted on that being so in the early 1800s. For clarity's sake, we're making sure the statement of claim reflects that so that they can't wiggle out of it.
Bomberry emphasized that the reserve lands originally included all of the Haldimand Tract.
"What we have here (what is left of the reserve lands) is exactly how the rest of the Tract was. There was land on which the crown had underlying title, it's held for a band, the Six Nations Grand River band, and because of that they have fiduciary obligations to make sure that they administer the land and any money from the sales of the lands, in the utmost duty as a trustee.
Bomberry said that although fiduciary laws were not originally part of the Haldimand Treaty, since the 1990s the crowns have been held responsible to manage the lands and monies they hold in trust.
"All the case law that developed in Canada ever since the early 1990s where it was found by the Supreme Court of Canada that the crown holds Indian reserves as a fiduciary on behalf of the bands. They have fiduciary responsibilities to not mismanage land and money that they hold in trust."
Bomberry said it doesn't make sense to confront the issue at a municipal level, as these are issues that stem from relations between Six Nations and the crowns (provincial and federal).
"Brantford is like a crease in the crown, the ultimate responsibility is on the crown. The crown is trustees as fiduciaries," he said.
"Most of the whole Tract was never validly surrendered, or there's no surrenders for them at all. In some cases where there was before surrenders, a crown never followed through with their surrender obligations. For instance, if you take Brantford, the Brantford town plot for instance, they were supposed to survey it then sell those lots at set prices for the benefit of Six Nations. In a lot of cases, they gave properties away or they sold it for below what should have been the price."
For instance, he explained the land now home to Brantford's courts was never surrendered properly, and he added it was just given for free. So, a lot of these things they never followed through with."
He said squatters on Six Nations lands were allowed to remain.
"They were supposed to remove the squatters on the remaining Six Nations lands, and they didn't take one step to do that," he said.
Bomberry said that all of the issues are an accumulation of breaches of commitments that were made to Six Nations.
"These were breaches of administering the land and money in the highest degree possible," he added.
The 341 West Street property (a property that is the subject of dispute between Brantford and Six Nations) is "'kind of a different issue" but is "part of the big picture," Bomberry said.
The West Street property is now owned by Six Nations through a numbered company.
"All the lands, except for our reserve where we are now, have all been patented, have been in third party hands since the mid to late 1800s," he said.
Lands were sold against the wishes of Six Nations leadership, which meant that what was officially considered "reserve" shrank substantially.
The West Street property was later purchased by Six Nations through a third party.
"That house is in the Johnson settlement area of Brantford, some 7,000 acres, where Six Nations only wanted the crown ever to lease that property — never that whole big chunk of land, never to have it sold, but it was sold in any event, contrary to what Six Nations wanted," Bomberry explained. Bomberry said that the Johnson property is but one small area among many lands along the Tract that Six Nations did not surrender.
"The West Street properties is in the Johnson settlement lands, these lands have all been tagged, we've lost them. But Six Nations never agreed for those 7,000 acres of the Johnson settlement to be sold. So, they don't have a surrender for it. "
He watched while crowds at the Open House event held right in the middle of Community Awareness month were taking the time to review detailed information pertaining to Six Nations multi-billion-dollar land rights case against Ontario and Canada.
They looked over detailed timelines of treaties, land rights issues of Six Nations, allegations pertaining to land rights, and legal actions to date.
The information was on large boards, in booklets, pamphlets, and slides all for the community to see.
Six Nations community members talked informally about their frustration over how much land has been lost. about not being able to attend or watch the hearings because of technology issues and everyone raised concerns it is taking too much time for the courts to address the issue.
Time is something Lonny Bomberry understands. Six Nations land rights case is now 28 years old. It was launched in 1925.
Now a proposed timeline presented at the Open House lays out a schedule that includes a deadline of December 31, 2023, for all parties to complete a compilation of all final expert reports and supporting documentation.
It's an optimistic timeline.
It looks to the new year with hope that the new trial will resume shortly after January 1, 2024.
Twenty-nine years after it was filed and 240 years after the Haldimand Proclamation Treaty was signed.
(With Files from Turtle Island News Editor Lynda Powless)
Add Your Voice
Is there more to this story? We'd like to hear from you about this or any other stories you think we should know about. Contribute your voice on our
contribute page
.